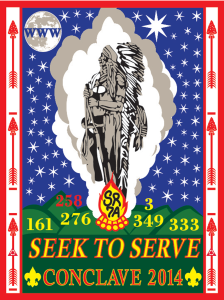 Theme – Seek to Serve
Dates: April 25 thru April 27, 2014
Attendance: 1,087 (the largest in SR-7A history [to date])
Location: Camp Shenandoah, Swoope, VA
Service Lodge: Shenandoah #258
Weather: High temperatures were in the mid-70s with lows in the mid-40s. Sunny on Saturday and Sunday, but heavy rains Friday afternoon created muddy conditions which  required parking to be established at a nearby middle school.
Presiding Officers: Section Chief: A.J. Kelly (Blue Heron #349); Section Vice Chief: Aaron Stewart (Wahunsenakah #333); Section Secretary: Andrew Sorenson (Blue Heron #349)
Officers Elected: Section Chief: Andrew Sorenson (Blue Heron #349); Section Vice Chief: Kevin Lee (Blue Heron #349); Section Secretary: Rhys Franklin (Wahunsenakah #333)
Awards: At last night's show, Shenandoah Lodge 258 won the Lodge of the Year Award. This honor is awarded to the lodge that demonstrates comprehensive success and achievement over the course of the year. Shenandoah also won the Quest for the Golden Arrow for the second year in a row. In a surprise win, Wahunsenakah 333 took the Spirit Award for the first time, breaking an eleven-year streak held by Shenandoah 258. To annually recognize those Southern Region lodges whose camping support efforts greatly enhance their council's outdoor programs, the Lodge Camping Support Subcommittee developed the We Support Camping Award. The purpose of the award is to encourage and incentivize lodges to sharpen their focus on their camping support programs within their council. Southern Region Chief Wes Seaman presented both Wahunsenakah 333 and Shenshawpotoo 276 with this brand-new award. Herb Smith of Wahunsenakah Lodge #333 received the inaugural SR-7A Legacy Fellowship.
Special Guests: Special guests at Conclave included Southern Region Chief Wes Seaman, National Committeemen Ken Davis and Bud Harrelson, NE-6B Section Chief Brant Portner, NE-5B Section Chief Michael Shostek, NE-6A Section Secretary Kyle Brendel, Ceremonies & Inductions experts Jay Dunbar & Paul Lackey, and a delegation from Amangamek Wipit Lodge #470.
Attendance by Lodge
Nawakwa: 182
Tutelo: 155
Shenandoah: 256
Shenshawpotoo: 125
Wahunsenakah: 176
Blue Heron: 169
Guests: 24
Conclave Newsletters
2014 SR-7A Conclave Vice Chiefs, Chairmen, and Advisers
Program Area
CVC/Chairman
Adviser
Service Lodge
Sam Biggers - 258
Randy Seelye - 258
Activities
Rhys Franklin - 349
Tim Swingle - 3
American Indian Activities
Adam Parker - 3
Matt Orlando - 276
Ceremonies
Sam McGhee - 161
Gary Harvey - 161
Shows
Brian Walter - 3
John Gasink - 3
Andy Spicknall - 3
Special Events
Kevin Lee - 349
Matt Singletary - 333
Training
Dakota Lineberry - 161
Dan McFarland - 349
Troop Representative Summit
A.J. Kelly - 349 (Chair)
Charley Brown (Coord)

John Thomas - 3
Conclave Expo
Ryan Waldrop - 333
Eric Roetz - 349
Conclave Service Project
Preston Marquis - 349
R.C. Hartman - 258
OA High Adventure
Aaron Whitehead - 333
Cody Seifert - 333
Tim Reidl
2014 Conclave Overall Award Results
Lodge of the Year Award*
Quest for the Golden Arrow
Spirit Award
Shenandoah #258
Shenandoah #258
Wahunsenakah #333
2014 Conclave Activities Results
| Activity | First Place | Second Place | Third Place |
| --- | --- | --- | --- |
| Lodge Ball | Tutelo #161 | Wahunsenakah #333 | Blue Heron #349 |
| Tug of War | Shenshawpotoo #276 | Tutelo #161 | Shenandoah #258 |
| Volleyball | Shenandoah #258 | Tutelo #161 | Blue Heron #349 |
| Ultimate Frisbee | Shenandoah #258 | Nawakwa #3 | Tutelo #161 |
| Distance Run | Shenandoah #258 | Tutelo #161 | Blue Heron #349 |
2014 Conclave American Indian Activities Results
| Style | First Place | Second Place | Third Place |
| --- | --- | --- | --- |
| Dance Competition Grand Champion | Ryan McNeilly - 3 | | |
| Craft Competition Best in Show | Logan Sandy - 3 | | |
| Old Style | Ryan McNeilly - 3 | Parker Childs - 3 | Logan Sandy - 3 |
| Straight | Daniel Morgan - 349 | | |
| Traditional | Adam Parker - 3 | Cody Slaughter - 161 | Ethan Moore - 349 |
| Chicken | Caleb Donovan - 3 | | |
| Grass | Jason Hundley - 3 | Grayson Kelly - 349 | Brandon Daul - 3 |
| Fancy | Max Yammane - 258 | | |
2014 Conclave Ceremonies Evaluation Results
Ceremony
Honor
Merit
Standard
Pre-Ordeal
Nawakwa #3 Team A
Tutelo #161 Team A
Tutelo #161 Team B
Shenandoah #258 Team B
Nawakwa #3 Team B
Shenandoah #258 Team A
Blue Heron #349
Wahunsenakah #333
Shenshawpotoo #276
Brotherhood
Nawakwa #3
Wahunsenakah #333
Shenandoah #258
Tutelo #161
Vigil
Nawakwa #3
Tutelo #161
Shenandoah #258
Blue Heron #349